Join Financial Peace University Now!
Financial Peace University is a nine-lesson, money-management class taught by America's most trusted financial guru, Dave Ramsey. Dave and his teaching team will walk you through the basics of budgeting, dumping debt, planning for the future, and much more. And now you can experience this life-changing class right here in Wabash, with access to all of the content online as well.
Got it. What's included?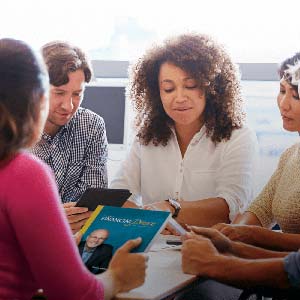 Join a Local Group for Your Greatest Life-Change
The biggest win for your money comes from meeting with other people on the same financial journey!
Everything you need to for class and discussion is included. Join our Lead Pastor Brian Scramlin and New Journey Worship Director, Mike Haarer, as they facilitate this life-altering course. The accountability and motivation you receive from discussing the lessons and meeting with people face-to-face is the key to changing your life!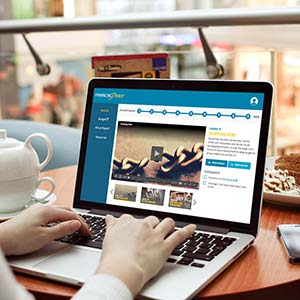 Online Access for One Year
Keep your motivation high with anytime, anywhere access to online materials.
When you start Financial Peace University, you get immediate access to your online account which includes videos of Dave's teaching, additional reading and tools to help you win with money! Go through the video lessons at your own pace and join a local group at any time for extra encouragement and accountability.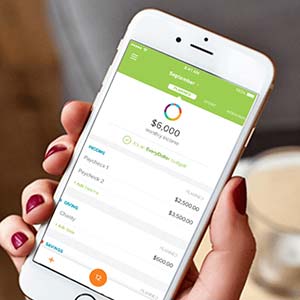 EveryDollar Plus for One Year ($99 Value)
Not everyone loves math. Make budgeting a breeze with our easy-to-use budgeting tool!
Save money and tackle your debt payments with a one-year subscription to EveryDollar Plus, our premium budgeting tool that's helping people manage their money. It's the perfect budgeting companion to put the principles you learn in Financial Peace University into practice. Connect your budget straight to your bank for easy expense tracking. In fact, EveryDollar Plus syncs across devices to keep you and your spouse on the same budget that's always up-to-date! Get access to your subscription through your online account with Financial Peace University.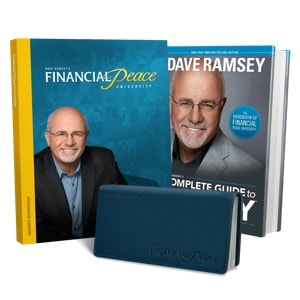 Class Materials
Materials include the member workbook, Dave Ramsey's Complete Guide to Money,and the envelope system. The workbook follows along with each video lesson, highlighting valuable information and providing space for you to record key takeaways. In the best-selling book Dave Ramsey's Complete Guide to Money, Dave provides you with all of the practical answers to the "How?" "What?" and "Why?" questions about money. And finally, the envelope system is Dave's easy-to-use cash management system. Put money in. Take money out. Stay on budget!
Cost
Normally, Financial Peace University is $130.00 but we have cut that $130.00 down to $99.00 per kit! Each couple or individual only needs one kit. Additionally, scholarships are available! Simply mention that you are interested in receving an FPU Scholarship, and you can get your kit at little to no cost. All of our scholarhsips come from people in our church who believe in this ministry and that it will change your life!
How do I Join?
You can sign up at New Journey on Sunday Mornings locally, or by emailing Pastor Brian directly at brian.scramlin@newjourneycommunity.com -or- if you simply cannot do either of those things, JUST SHOW UP and we will work it out. Just GET HERE FEBRUARY 6th at 6:00PM! 
Child Care
We are offering FREE trained child care for this nine week course. These are PAID and TRAINED staff caring for your children. But, WE are footing the bill! Please arrive early to check in your children.
Got Questions?
If you still have questions, email Pastor Brian Scramlin at brian.scramlin@newjourneycommunity.com or call/text him at 269.317.1160.